We want your loved one to experience life the best they can.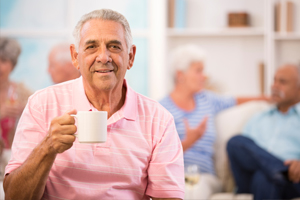 We want our senior residents to feel dignified in all they do and in who they are.
Feeling a sense of dignity can come from simple things like makeup, shined shoes, or dressing up. Looking great can help us feel great. While arthritis, uncontrollable shaking, or sight limitations may have the potential to cause difficulties, we're dedicated to working with our residents so they can continue to enjoy life and maintain a sense of dignity.
We help boost the confidence of our senior residents by providing assistance with daily activities, such as doing guided painting with stencils, so the finished product still looks great, sorting cards for Veterans, providing large dice, cards, and game pieces, and putting the focus on the many great things our residents are capable of. These activities not only help with joint issues, but they also help improve sight limitations. Other amenities, such as raised bed gardens around the building, allow them to continue performing relaxing routines like gardening, while sitting on a bench or in a chair.
The family and friends of the residents at Angelica's Place, the premier seniour community in Romeo have become part of our family and can feel confident that we always provide the highest level of care for their loved one. Our residents are always treated with respect, courtesy and dignity, and our goal is to create a very personal and loving environment, which allows the residents to call Angelica's Place home.
We are a secure senior community with keys pads on all entrances and exits, which helps to make all staff and residents, as well as family members, feel a little more at ease. We also perform a comprehensive pre-assessment to determine the best plan for your loved one, which includes caring for the mind, body, and soul.
The resident's doctor and caregivers will assist us with the resident's plan of care and implementation.
---
Physical Environment and Design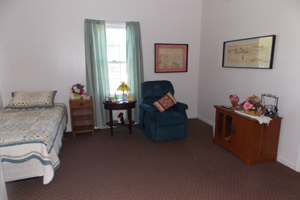 Our senior community is small enough that your loved one gets the attention they deserve, which includes ongoing daily contact with each of our residents. The layout of our community is comfortable and allows your loved one to feel independent, while also reminding them of home. The living room allows us to interact and see how the residents are doing, but they are always in sight of their room and know what is activities are in store for them each day.
You can stop worrying about cooking, cleaning, home maintenance and medications. Every service is carefully designed to meet the individual needs of our residents, so that your loved one can enjoy a comfortable, dignified and carefree lifestyle.
Assistance with bathing, grooming and dressing.
Regular health checks, with monthly monitoring of weight, blood pressure and nutritional needs (more frequently if needed).
Housekeeping and laundry. Laundry done in individual loads.
Supervision of medications and coordination of refills.
You can use a visiting doctor who does weekly rounds for your convenience, or the doctor of your choice.
Podiatrist that makes semi-monthly visits.
Rehab on-site when needing that extra one-on-one attention.
Beauty and barbershop.
Library will come monthly to deliver audiotapes and books.
---
Daily Activities (examples):
Chair exercises
Brain Fitness
Bingo
Music therapy
Dice games
Movie time
Arts and crafts
Dancing
Yoga
Throwing the ball in a group
Motor skill activities
Card games
Reminiscing
Religious services
Volunteer involvement
Gardening